Congregation KINS of West Rogers Park
Welcome to Congregation K.I.N.S. of West Rogers Park
Congregation K.I.N.S. is a warm and vibrant shul dedicated to meaningful tefilla, engaging Torah study, community involvement, and support of Israel.
Upcoming Events
KINS Pesach to Shavuot Learning Project:
To sign up for the:
• Women's NaCh Learning Project - call the synagogue office.
• Men's Mishnayot Learning Project click here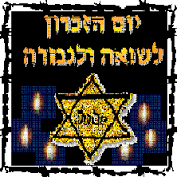 Wednesday, May 4, 2016 – 8:15 pm
YOM HASHOAH PROGRAM @ KINS
featuring: "Names Not Numbers"
with an introduction by Mrs. Eva Weiss
Shabbat, May 7, 2016
YOM HAATZMAUT/MOTHER'S DAY
KIDDUSH
Please click here to be a sponsor!
Sunday, May 7, 2016 10:30am-12:00noon
KINS and DePaul University
Center for Jewish Law & Jewish Studies
present
Ivy Tower Terror: New Approaches
for Fighting Anti-Semitism on Campus
with Professor Steven H. Resnicoff
Wednesday, June 8, 2016
KINS ANNUAL DINNER
honoring
Yoel and Yehudit Goldberg
Weekly Announcements
CONDOLENCES
* Chaim & Sorah Maryles, Helen & Jon Shankman, Bernice & Milton Grunzweig ,
Dr. Sam & Rachel Maryles, Jack & Anne Maryles, and Harry & Annie Maryles,
on the passing of their father and brother, Barry Maryles, z"l. The funeral will be
held on Tuesday at 12:30pm in Eretz HaChaim cemetery, Beit Shemesh, Israel.
Shiva will begin after Pesach.
Recent Photos 2016
Click here

for photos from the 2016 Purim Dinner! Thank you to Dr. Stephen Karesh and to Deja Views for taking such great photos every year!

Click here

for photos from the Model Matza Bakery at KINS! Thank you to our Youth Director Aviva Hassan for organizing!

Click here

for photos from KINS packing at Maot Chittim before Pesach (April 2016)!
Tue, 3 May 2016 25 Nisan 5776