Rabbi Aaron Leibtag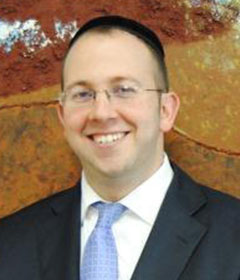 Rabbi Aaron Leibtag serves as Associate Rabbi of Congregation KINS. Previously, Rabbi Leibtag was the Rabbi of Congregation Kehillath Jacob Beth Samuel (KJBS) in Lincolnwood/Peterson Park for 12 years.

Originally from Baltimore, Maryland, Rabbi Leibtag attended Yeshivat Shaalvim, received Semicha from Rabbi Isaac Elchanan Seminary of Yeshiva University while simultaneously earning a Masters of Education from the Azrieli School of Education and Administration. He served as Rabbinic Intern at Congregation AABJ&D in West Orange and at Keter Torah in Teaneck. Following his position in Teaneck, Rabbi Leibtag was selected to be part of the first cohort of Kollel Fellows at the Yeshiva University Torah Mitzion Kollel in Chicago, where he spent time both learning and teaching throughout the community.
In August 2009, Rabbi Leibtag assumed the position of Rabbi at KJBS in Peterson Park and Lincolnwood. In his position, he oversaw education and programming for both youths and adults and worked to create a vibrant and energetic atmosphere through the various shiurim, programs and events he facilitated in the Shul. Rabbi Leibtag is also a Middle School Gemara Rebbe and 8th Grade Boys Advisor at Hillel Torah North Suburban Day School where he oversees the Talmud and Dinim curriculums and is involved with the spiritual and Ruach programming for the entire middle school. Rabbi Leib
tag is the recipient of the ATT Hartman Educator of the Year award and maintains close relationships with his students long after they have left his classroom. Rabbi Leibtag is a member of the RCA Executive Committee; Treasurer of the cRc (Chicago Rabbinical Council) and sits on the Geirus Commision of the cRc.
Ayelet (nee Feinberg) is a native of Queens, attended Stern College, received her RN degree from Beth Israel School of Nursing and is a Kallah teacher. They have an open home and enjoy hosting Friday night tisches, youth onegs, teen learning and much more. They have 6 children: Akiva (16), Naftali (14), Sruli (14), Daniel (12), Azi (8) and Miriam (5).
Sat, September 23 2023
8 Tishrei 5784
Sat, September 23 2023 8 Tishrei 5784